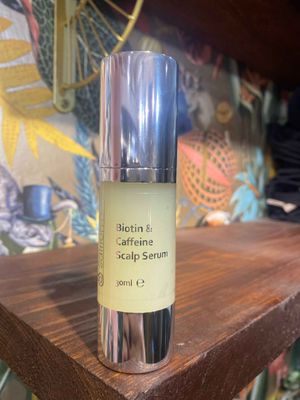 Hair Loss Biotin and Caffeine Serum 30ml
£17.50
An absolutely gorgeous quality 30ml scalp serum designed to work alone, or in harmony with the Shampoo and conditioner . Containing generous levels of 10% Active ingredients. Apply a small amount to your finger tips and massage through your scalp on either a clean dry scalp or a freshly shampooed and conditioned scalp.
As with all our Biotin and caffeine products they will work much better if all used together, you'll be able to judge the progress better. This serum should last 50 days and will require consistent use as it wont work over night and may take a few months to notice a difference, some will notice a difference within weeks but I know from watching a friends progress it can take 4/6 months for hair to grow through thicker. All of this only helps with regular trims and visits to the salon.
I have lots of information about the studies already conducted in clinical trials so if you're interested and would like more information please email and I can forward this to you.
SKU: 10000-12