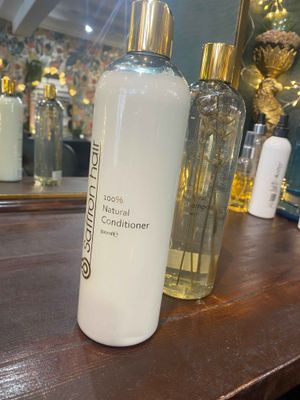 500ml 100% Natural Conditioner
£22.00
Saffron Hair 100% Natural Conditioner.
Refills also available in salon!
We've upgraded our incredible 100% natural shampoo. We have changed the packaging a couple of times but the last time didn't feel right as even though the bottle looked stunning having a plastic piece of lavender inside didn't fit well with us trying to lessen the plastic waste.
We have been on the hunt for beautiful dried lavender from the uk and have found some we love so all our bottles will now have this instead of the plastic.
The benefits of using Saffron hairs 100% natural Shampoo and Conditioner
*EVENING PRIMROSE contains antioxidants to nourish the scalp and Omega 6 to fight hair loss and to stimulate healthy hair growth
*ROSE GERANIUM OIL is full of amino acids to promote hair growth and balance the oil in the hair and scalp
*ALOE VERA LEAF JUICE contains Vitamin A, B12, C and E and folic acid which strengthens and repairs hair strands and makes it look healthier, shiner and softer (Shampoo only)
*LAVENDER OIL to promote hair growth, make hair thicker and to repair damage. Soothes itchy scalp and reduces dandruff and most of all, relaxing and smells lovely!
HOW TO USE
Shampoo:
Apply a small amount to wet hair and massage into scalp, rinse and repeat. For best results, use with 100% Natural Conditioner
(please note that this shampoo will not lather like traditional shop-bought products, as it is free from nasties)
Conditioner:
After shampooing, apply the 100% Natural Conditioner to the mid lengths and ends of your hair, then massage a small amount to the roots, if needed (this will help with irritated or dry scalps) Rinse. For an intensive conditioning, leave in your hair for up to two minutes before rinsing.
This is our flagship product and anyone's who's tried it absolutely loves it, the smell, the clean feel of your hair and the fact it's 100% natural.
An unbelievably high quality, rich, luxurious shampoo and conditioner, completely free from Sulphates, SLS, SLES, Parabens, and Artificial Fragrances. Made from generous amounts of lavender oil, geranium oil, aloe fat vera juice and only 100% naturally derived ingredients. Spectacular on the hair, leaving it clean and refreshed and smelling Gorgeous.
These Devine products are perfect for natural hair, colour treated hair, keratin blowdries and hair extensions due to the fact they are sulphate free.
Not tested on animals.
NOW Vegan friendly
Conditioner Ingredients: (Sugar Alcohol)(Brassica Rapa seed oil)Aqua(Water), Glycerin, Behentrimonium Chloride, IsopropylAlcohol, Isopropyl Myristate, Cetyl Palmitate, Cetearyl Olivate,Sorbitan Olivate,Tocopherol(from Olive Oil)(from Olive Oil)(Vitamin E)(Argan Oil)(Evening Primrose), Cetyl Alcohol, Argania Spinosa Kernel Oil, Oenothera BiennisOil, Lecithin, HydrolysedSilk Aqua, HydrolysedWheat Protein Aqua, D-Panthenol Aqua, Benzyl Alcohol and Salicylic Acid, Glycerin Sorbic Acid,Lavender/Geranium lavandula Angustifolia,Pelargonium graveolens(pure aromatherapy lavender oil)(pure aromatherapy rose geranium Oil).
SKU: 10000-6